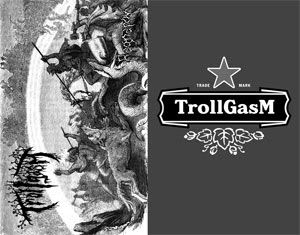 TrollGasm - Demos
"Ragnarok" demo
1. Forest Warriors | 3:10
2. Thought and Memory | 4:32
3. Ragnarok | 4:31
"Heinekin" demo
4. Ride | 03:23
5. Heineken | 02:35
6. Dance of the Spirits | 02:36
Total playing time | 20:47 min.
Genre: Folk / Viking / Black Metal
Nationality: Dubbo, Australia
Release date: October 2010
TROLLGASM, hailing from Dubbo, New South Wales play their own brand of Folk / Viking / Black metal. This pro-tape is a compilation of the demos "Ragnarok" [August ´09] and "Heinekin" (less the track "The Northern Winds") [February ´10].
Pro-tape and artwork. Limited to 250 copies.
Line-up - Ragnarok
Tim - Guitars, bass, vocals
Texas - Session drums
Line-up - Heinekin
Tim - Guitars, vocals and keyboard
Dani - Bass
Texas - Drums
Further information: Myspace | mp3.com.au
---