Aurora Australis Records
· Culture · Tradition · Spirituality ·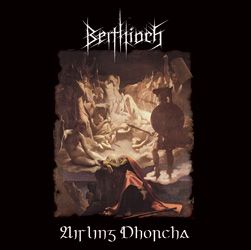 Beithíoch - Aisling Dhorcha
1. Glór Cianaosta (Primeval Voice)
2. An Anaithnid Dorcha (The Dark Unknown)
3. Dornán Talaimh (A Fistful of Earth)
4. Oíche Bhithbheo (Immortal Night)
5. Arm na Déithe (Weapon of the Gods) 0
6. Solas na Geallaí (Light of the Moon)
7. Súil Bhaloir (Balor´s Eye)
8. Athbhreith Lasánta (Fiery Rebirth)
9. Ag Stánadh ar Shíoraíocht (Staring at Eternity)
CD $15
Posted anywhere for $3.20
---
Aurora Australis, 2016
Beithíoch, meaning "animal" or "beast" in Irish, represents the instinctive and terrible in man. Coming from Ireland´s north-west, Beithíoch are an ancient-obsessed admixture of Black/Doom Metal with Dark Ambient atmosphere.
Aisling Ḋhorċha means "A Dark Dream Vision" and is a story about overcoming darkness and the symbolic rebirth of the light. An Aisling is an ancient form of epic poem in the Irish language. These poems take the form of a dream with prophetic overtones in which the dreamer is visited by the image of an otherworldly woman.
In Aisling Ḋhorċha the story begins with an ancient, terrible voice calling to the protagonist. They follow the voice and fall into a dream, passing into another world - one in which the true darkness of the real world is revealed to them. They have learned the truth of life and death, but it sickens them with a deep fear which they must learn to overcome.
Previously available as a limited tape release in 2008, Aisling Ḋhorċha is now available on CD through Aurora Australis.