Aurora Australis Records
· Culture · Tradition · Spirituality ·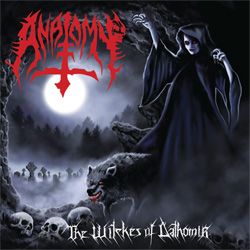 ANATOMY - The Witches of Dathomir
1. Ambrosia Death
2. Suncrusher
3. The Witches of Dathomir
4. Just One More Nail
5. Blood Will Follow Thee…
6. Far from the World of Blue
7. Cauldron Nebula
8. The Exorcist (Possessed cover)
Bonus tracks: Studio 1998
9. The Witches of Dathomir
10. Suncrusher
CD $15
Posted anywhere for $3.20
---
Aurora Australis, 2016
"The Witches of Dathomir" was originally released in 1999 (Bleed Records) featuring Hellcunt (Bestial Warlust, Gospel of the Horns,Vomitor) and Chris Masochist of Gospel of the Horns fame.
The 10-track album includes a cover of "The Exorcist" by Bay Area Death Metal band POSSESSED.
The re-release also includes the tracks from the split with Long Voyage Back (recorded in 1998) as bonus material, remastered by Goatsound in 2015.
New artwork has also been created by artist Badic (Master, Entrails etc).