Aurora Australis Records
· Culture · Tradition · Spirituality ·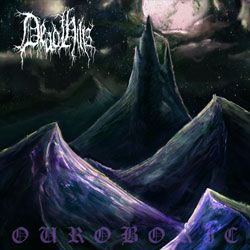 Dead Hills - Ouroboric
1. The Oracle | 11:21
2. Reflection on the Water | 8:56
3. Perpetuity | 6:26
4. Shores Aflame | 13:14
5. The Mountain | 12:21
Playing time: 52:21 min
CD $15
Posted anywhere for $3.20

CD + logo patch $18
Posted anywhere for $3.20
---
Aurora Australis, 2015
"Ouroboric" is the debut album by South Australia´s DEAD HILLS. The release is a mix of majestic Black Metal, melodic and gliding, overlaid with gravelly guitars and vocals; reminiscent of 90´s Nordic Black Metal. Soaring on wings of menace and melancholia; it weaves and descends through unknown landscapes in bursts of beauty, aggression and dismay.
Listen to the lost souls from the borderlands; hear their cries in the accurst DEAD HILLS.
Originally released on cassette by Cloister Recordings, 2014.
Remastered by Aurora Australis, 2015.