Aurora Australis Records
· Culture · Tradition · Spirituality ·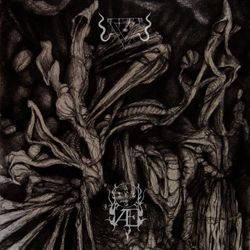 To the Dream Plateau of Hideous Revelation
ESOTERICA
1. The Devil´s Trumpet | 7:19
2. Antipathy Divine | 6:19
3. Abstraction Vial | 6:09
ÆVANGELIST
4. Omniquity | 22:20
Total playing time 41:47 min.
CD $15
Posted anywhere for $3.20
---
Aurora Australis, 2013
Experimental Black Death artists ESOTERICA and ÆVANGELIST deliver "To the Dream Plateau of Hideous Revelation", a mixture of chaotic noise and haunting despair, and features art by Prof. Ralph Stewart of the Art Institute of Philadelphia.
---
ESOTERICA, who rose from the ashes of Chaos Moon (Black Metal / Funeral Doom), contribute three chaotic tracks of experimental Black Metal noise including a guest appearance by MkM of Antaeus / Aosoth on "Abstraction Vial".
The band released "A Home for Rats" demo with Fall ov Natvre earlier this year and have just released their debut album "Aseity" with Forever Plagued.
---
Spawned in Florida by Matron Thorn (of Benighted In Sodom) and Ascaris (of Venowl), ÆVANGELIST produce a unique strain of sinister Death Metal comparable to bands like Portal, Mitochondrion or Vasaeleth. Their offering "Omniquity" is a 22 minute+ track, that put simply, is "total war" on the senses.
Often violent and disturbing it works like a hallucinogen forcing the listener to bear the weight of the many layers of electronic black noise that are inflicted. Even with the performances great length its influence will hold you like the exorcism of some demon, or the unwanted possession of which. There are no pleasant melodies or riffs here, just DEATH and despair.
ÆVANGELIST has recently finished its second album "Omen Ex Simulacra" which will be released through Debemur Morti later in 2013
Reviews
No Clean Singing (22 July 2013)