Aurora Australis Records
· Culture · Tradition · Spirituality ·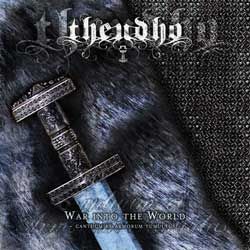 Theudho - War into the World
1. War Into The World (edit) | 05:04
2. Terror Cimbricus | 05:42
3. The Raven Flies North (Vort cover) | 04:45
4. For All Those Who Died (Bathory cover) | 04:28
Total playing time | 19:59 min.
Digital download: [Download] | [Release Sheet]
---
Aurora Australis, 2011
"War into the World - Cantuum Et Armorum Tumultus", is the brand new EP of Flemish pagan metal band THEUDHO available now as a free download. Their first release since 2009 is the prelude to the "When Ice Crowns the Earth" album, the title track being a tribute to the mythological origins of warfare in the history of gods and man alike.
"When Ice Crowns the Earth," due out November 2011, promises a more guitar driven sound, more diverse songwriting, a technical precise execution of the music and a better production, to deliver THEUDHO's best album to date.
Recorded and mixed at Þrúðvangr, Flanders / Belgium between October 2010 and July 2011. Mastered by Dan Swanö at Unisound, Sweden. Artwork and layout by Jurgen.