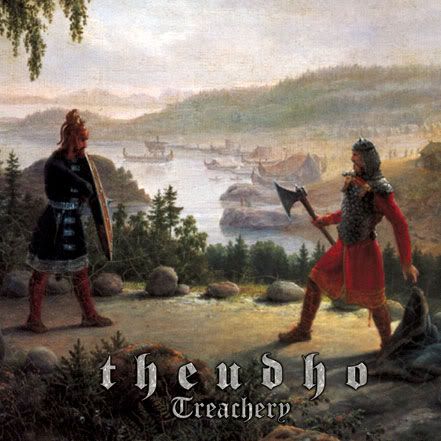 Theudho - Treachery
1. Awakening of the Emperor | 04:41
2. Tuisto | 04:52
3. Amandus | 04:31
4. Blót | 04:44
5. The Architect | 05:15
6. Foreboding Dreams | 05:26
7. Rígsþula | 05:12
8. The Sword of Cheru | 04:34
9. The Frozen Seas of Atland | 04:08
10. Treachery | 05:02
Total playing time | 48:32 min.
Genre: Blackened Pagan Metal
Nationality: Ghent, Belgium
Release date: July 2010
Debut album from 2004 of Flemish Pagan Metal band THEUDHO, available for the first time on vinyl from Aurora Australis. Over 48 minutes of pagan anthems, a must for fans of Bathory, Burzum, Falkenbach and Ancient Rites.
Limited to 250 copies. First 200 come with download codes for e-version of tracks.