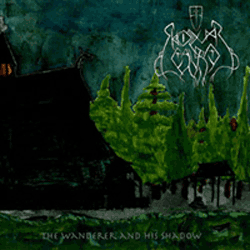 Ein Skopudhr Galdra - The Wanderer and His Shadow
1. The Wanderer
2. His Shadow
Self-released, 2007
Ein Skopudhr Galdra (from Old Norse), literally translates to "The Singer of Magical Songs" or "The Singer of Magic", which is one of Woden's many epithets.
Ein Skopudhr Galdra is a being of magic, suffused with the wit and wisdom of sound. It is a guise for working the magical will. It is an atavism, a manifestation of collective memory, the synthesis of unconscious and hyperconscious.
Ein Skopudhr Galdra stands between ancient and modern, technology and instinct, laughter and despair. It is extremes, born in tandem, an exploration of the terrain of the self in the world and the world in the self.
Ein Skopudhr Galdra exists only because every act is suffused with magic, only because the world is a place of spirit. It is a seer of that which was, an animist, a stalker of mystery. Ein Skopudhr Galdra seeks - not balance, but equilibrium.
Excerpts of "Woden Rising" and "The Wanderer" can be found at the band´s [Myspace], and further information can also be found at [Hex magazine].
---